Another weekend gone, it's back to the grind. Actually, work wasn't too bad today, and I did get to play with this li'l program program called Comic Life which would make my life a lot more fun. Did I mention that (of course) it's Mac only? 'Cause it is. Reason #246 why I need a Mac for home use, dangit.

Today is Baseball Season. You will like Baseball.

Thanks for all the great April Fools sites, fellow comic bloggers! I really got a chuckle out of Chris', and how can you not wait to TiVo the upcoming LawyerBear project, but hands down, Mike had the best. One day I hope to be roasted that well, that subtly. One thing though, Mike - you really should've offered a brand of whiskey for Mr. Church to go along with all the other nifty merchandise. "Kevin Church's Triple Malt BeaucoupWiskey" has a nice ring to it.

I just finished Wonder Woman #6. Y'know, I was really rooting for a decent WW comic - and the first 2 issues or so seemed very promising. Of course, the chronic lateness of the book was a real turn-off and just about killed it for me, but the story was fun, the art was great and I liked the big villain mash-up that it began with. After reading this last one (which was refreshingly early), it's over. Bad, Bad comic! Ugggg....

In contrast, I also just finished The Spirit #4. Thank you, Mr. Cooke. Thank you. I'm a comic guy who never, unfortunately, followed the original Eisner run - and I know, shame on me... but I can honestly read this series with only a cursory knowledge of the characters and history, and.. Oh! Stars and Garters, is this a fantastic thing of beauty! Just from a purely "comic-book" level. The art, the mood, the feel, the characters, the art, the writing, the production, the art.. it might be my new favorite .. well, aside from All-Star Supes...

And finally, Brandon over at Random Panels has a new meme that lets me play around with Photoshop again. First thing I thought of: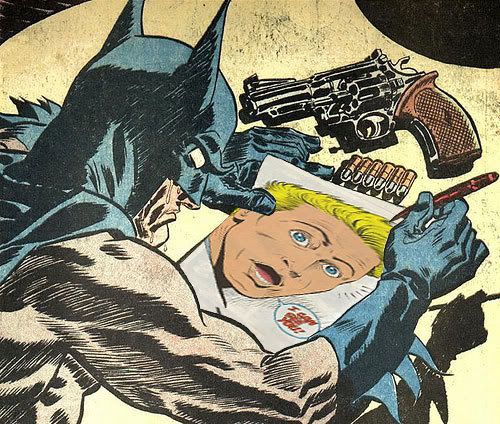 That's kind of creepy, actually.
EDIT: Added
The Spirit
info. Because it's fantastic. And was quicker this way.