A quick post to welcome any newcomers that found me through Mike's links he put up today over at Progressive Ruin. Gave me a huge traffic spike, that did. But dangit, now I'm going to have to actually post something decent instead of my usual ramblings about dinosaurs and cakes. And dinosaur cakes. (mental note for future topic. Hands off, Sterling, I thought of it first!) Maybe I'll just start posting sober.

Nah.

Just so you know, I try and post daily (well, at least weekdaily) but because I can't post at work and I live in Idaho, new updates usually won't hit this site until around 9-ish Eastern US time. But by then, you all should be drunk enough to understand what passes for humor around here. I'll start working on a new post for later tonight after I post this quickie.

Anyway, look around, smirk a little, and feel free to email me if you need my paypal account info. I want more stuff.

And - just to continue the silliness...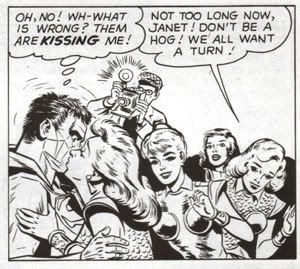 Bizarro. Pimp.