Whew! It's over 100 degrees here, and it will be for the rest of the week. Remind me why I moved to a desert again? Ummm.. dessert... that reminds me - I have Popsicles! Back in a flash!

*one quick trip to the freezer later*

Sorry about the lack of post on Friday - I was abducted and forced into a bar against my will. Not a pole bar mind you, but the kind of bar where you get outrageously inebriated among total strangers then try to sleep with them. Well, it's all sorted out and now that she's finally left (and I've sobered up), I'm free to continue with another stupid comic book musing. In Blog form!

So, without any further delay, let's have a l'il perusal of DC's October shipping list, hmmm?

COUNTDOWN 30-26

I've decided just this week that I'm dropping Countdown. It's really not doing anything for me and I don't read enough of the mainstream DC books you need to read to make sense of this thing. I really had high hopes for this, but after 10 issues, I really can't justify anything further. That said, I will probably read it in the store just to keep familiar with what DC's doing for the next year. Shame, though.

COUNTDOWN TO MYSTERY #2
COUNTDOWN TO ADVENTURE #3
COUNTDOWN SPECIAL: THE FLASH 80-PAGE GIANT
COUNTDOWN PRESENTS: LORD HAVOK AND THE EXTREMISTS #1
COUNTDOWN PRESENTS THE SEARCH FOR RAY PALMER: CRIME SYNDICATE #1

Reason #143-147 why I'm dropping Countdown. I hate these marketing tie-ins, and I'm not buying anything Countdown related on general principle. This time, I mean it. Really.

(Unless the Fourth World books look good. I'm a sucker for fourth world stuff.)

DETECTIVE COMICS #837
Written by Paul Dini
Art by Don Kramer & Wayne Faucher
Cover by Simone Bianchi
This special issue of DETECTIVE COMICS features two of Gotham's recently reformed rogues: Harley Quinn and the Riddler! Readers who have enjoyed Harley's role in COUNTDOWN will take special pleasure in this story as they learn how she became involved in the Amazonian Women's Help Center.

I'll still buy this though, Mr. Dini. You have my faith when writing these two characters, both of which you obviously love even more than I do.
And as an aside, if I may? Mr. Dini? Just between you and me?...
(You totally have the lovely Mrs. Dini dress up in the Harley costume every once an a while, don't you? You can tell me...)
*ponders for a minute*
OK, I'm back!
BATMAN AND THE OUTSIDERS #1
Written by Tony Bedard
Art by Koi Turnbull & Art Thibert
Cover by Turnbull
Variant Cover by Ryan Sook
Tony Bedard (BIRDS OF PREY, COUNTDOWN) and Koi Turnbull (Fathom) launch a bold new direction for the DCU's misfit heroes! The rules have changed all over the DC Universe - but for the Outsiders, they're still just things that were made to be broken!
It's a fresh game of dirty pool for the Outsiders as the Dark Knight sends his new team to the frontlines of a massive assault on metahumans. Batman and the Outsiders must fight even dirtier than their enemies...and risk becoming the supervillains they despise!
Y'know? It seems like the only thing harder than an acceptable Doom Patrol series run is an Outsiders one. Or a Creeper. But, hope springs eternal, I suppose.
And something I just noticed?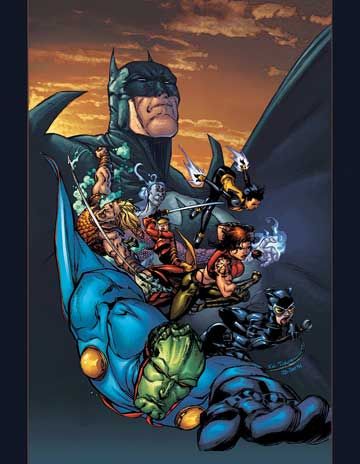 J'onn J'onzz is a skrull. Jus' saying. But it explains a lot...
DEATH OF THE NEW GODS #1-2
Written by Jim Starlin
Art and covers by Starlin & Matt Banning
Variant cover issue #1 by Ryan Sook
The title says it all! For months now readers have witnessed the unimaginable and unthinkable as New Gods across the DCU have seemingly died, with Lightray's death in COUNTDOWN the biggest of them all. Now, the carnage continues but the mystery and adventure is just beginning! Jim Starlin - master of the cosmic odyssey - writes and illustrates this epic tale of death and destruction on a scale never seen before. With a cast of hundreds and cameos by the entire DCU, this intergalactic 8-part series cannot be missed!
Yeah, they're gonna sucker me in on this one. I'm dreading the final outcome, though.
My big problem is that so few writers actually "get" the fourth world and an even lesser number can write a decent story around it. Starlin, in theory, could do this. But I shudder at DC's collective idea as to how the fourth world should fit in with their new design. Part of me says nothing good can come of this, the other part is just hoping against hope. And springing Eternals.
(That's a pun, there.. See, The Eternals were Kirby's Marvel version of .. oh, never mind!)
CRIME BIBLE: THE FIVE LESSONS OF BLOOD #1

GOTHAM UNDERGROUND #1

INFINITY INC. #2
BLACK ADAM: THE DARK AGE #3

52 AFTERMATH: THE FOUR HORSEMEN #3
Again: general principle, squeezing the reader's nickels, massive tie in aftermath = not buying.
TALES OF THE SINESTRO CORPS PRESENTS: THE ANTI-MONITOR #1

TALES OF THE SINESTRO CORPS PRESENTS: CYBORG SUPERMAN #1
Same thing with these. Though I might flip through them.
BATMAN #670
Written by Grant Morrison
Art and cover by Tony Daniel
The next chapter of Batman's life starts here! The shadow of Batman's archfoe Ra's al Ghul still looms large over the head of the Dark Knight. Is Ra's al Ghul destined to live again? Batman begins his quest for the truth in this special prelude to "The Resurrection of Ra's Al Ghul," guest-starring Talia al Ghul, Damian, the Sensei and I-Ching!
Morrison possibly bringing us a Ra's al Ghul story?
Please?!?
BATMAN CONFIDENTIAL #10
Written by Michael Green
Art and cover by Denys Cowan & John Floyd
This is where it happens: the birth of the Joker! Discover exactly what Batman's involvement was in the creation of unfettered evil!
Once again ...
Please don't do a Joker origin story!!
No matter how good you
think
it's going to be, it will not work at best and could possibly kill the character for future possibilities at worst. He works better set against the unknown. Trust me on this one, guys.
ACTION COMICS #857
OK, that's just plain genius there. Great cover.
And I will buy it simply for that reason.
JUSTICE SOCIETY OF AMERICA #10
Nice to see that Alex Ross has found a way around that whole "Steel Package" thing.
SUPERGIRL AND THE LEGION OF SUPER-HEROES #35
Zombie Lightning Lad!!! Gah!!
THE SPIRIT #11
Good Grief, but that's one helluva eye-catching cover! Phenomenal job, Mr. Cooke!
SHOWCASE PRESENTS: SUICIDE SQUAD VOL. 1 TP
Written by John Ostrander, Keith Giffen, J.M. DeMatteis and others
Art by Howard Chaykin, Karl Kesel, Luke McDonnell and others
From the 1980s comes this hard-hitting volume collecting the popular series in which captured super-villains got the chance to leave prison behind?for a price. Included are storied from Suicide Squad #1-18, Doom Patrol and Suicide Squad Special #1, SECRET ORIGINS #14 and Justice League International #13.
Thanks, DC. It's about freckin' time, though! I will always regret selling off my full collection of this series so many years ago. Thanks for the second chance.
DC MINIMATES
One guess as to which pair I'll be getting. At long last.. Oh, the hi-jinx that will ensue...
WOMEN OF THE DC UNIVERSE SERIES 2: STARFIRE BUST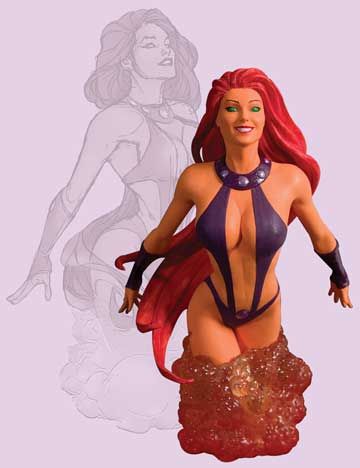 So .... how long until we get one of those "deluxe" posable action figures of Starfire with removable clothing, a la Power Girl?
Jus' Sayin; You know it's coming.
---
Well, that's enough for now. Time to walk the doggies and water the burn spots on the lawn. And get another Popsicle. I think I'll go with the "blue" flavor....