I was looking through some old Lois Lane comics (Yes, Ladies! I'm single!) and came across this beauty of a cover: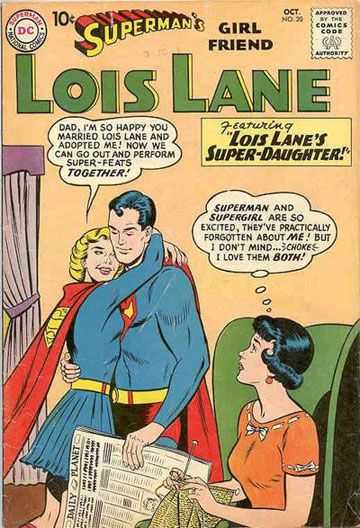 Did Woody Allen write this?
Yes, that's about as awesome of a Lois Lane
"Buy me to see what's going on!"
romance cover as you can get, considering that Superman has not only married Lois Lane
(old hat)
, but he has
adopted his cousin,
who honestly seems
pretty stoked with the whole idea.
(*shudder*)
Bonus: You just
know
Lois is going to tear off into a
Catastrophic Jealous Lois Freak-Out
™
at
some

point
during the story. I can only hope it involves a Kryptonite frying pan.
Props to my man 'Supes for the strategic positioning of the newspaper, though. Been there, done that. Lois never saw a thing. Smooth, Bro!
I know I have to filter this through the innocence of those Wacky Silver Age Stories
™
, but - seriously?!? Did this one totally get a pass? And if this, like most LL comics, was really targeted to teenage girls, was the dilemma,
"Now that he's adopted a fellow Kryptonian, someone who (*choke*) is more like him and better than me ... someone who is ... (*sob*) prettier and younger than me... (*sob*) what chance do I have of keeping him?"
"I....I...I'm still happy. I am. I'm happy! Hap..(*choke*)..py!"
That's a great cover. Man, I love old Lois Lane comics!
(Hi, Ladies!)
Anyhoo..., because Lois seems a bit more clueless than usual on this one, and because it's absolutely, positively
begging
for a joke ... here we go!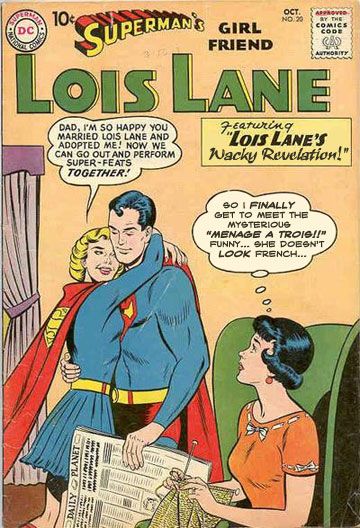 Betcha thought I was going to
really
dirty that one up, didn't ya?
(ehh.. believe it or not, a "Superman Supergirl Lois threeway" Google image search is surprisingly barren. Huh. Funny, that!)



(Hi, Googlers!)