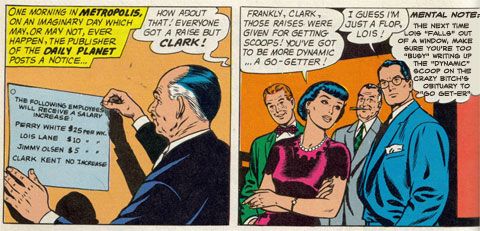 Apparently salary is computed weekly over at The Daily Planet. And don't Jimmy and Perry both look pleased with their new figures?
Perry:
My supply of Cuban's is ensured. Excellent.
Jimmy:
Oh, boy! I can afford a new watch battery! I can cross the street again without fear!
And, it's proven for the umpteenth time in Silver-Age Superman stories that The Daily Planet has only four employees. And a publisher. Walt Disney.
I knew it.
Well, off to the Spider-Movie! Have fun, kids!
EDIT:
I hate when I do this, but I always seem to find a better joke the second time I review my old posts. I probably should stop initially posting while inebriated.
... nah.