I'm probably one of the few, based on the many, many bad reviews, but I've actually been somewhat enjoying DC's Countdown - mainly because I know that it's all set-up at this point and can sort of see the distant road ahead. Not the particulars, not the road's destination, just if the road ahead is one I want to travel.

I could be totally proven wrong, but I'm giving it a few more week's to get out of the "set-up" mode and into full-fledged "major stuff's happening now!" mode before I drop it. I still hold out hope.

I (and again, this is probably just me) particularly like the Jimmy Olsen bits. We're starting to get a peppering of Silver-Age Olsen.. that's a good thing, and I hope we'll have a lot of fun with that arc. Hopefully, we'll see his whole wacky history touched on before it ends... I mean, the dude's done everything, if you think about it! Everything. He could teach us a lot. Seriously: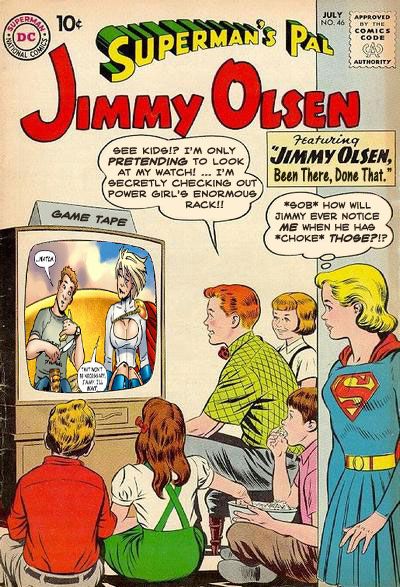 "... kids!"

Kids!!

She meant to finish with "Kids!" Ran out of room!

(Honestly!)
Jimmy Olsen: Pimp.