Hmmm.. wonder what they were going for here... Li'l tyke seems awfully familiar...

Last Month...
Ah.. memories!
That reminds me.. I really need to write to my brother. Do they allow comics in county?
And why did Pat's mom keep her birth control in the kitchen cupboard?



A:

'cause in 1956, that's where her place was!



(B'dum, Ching!)

I keed, I keed...
EDIT:
Hey! Check out what
Mr. Popular
drew over at
Daily Sketch
today!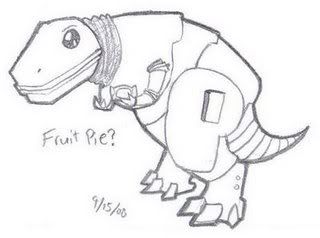 Grimlock bringing me a fruit pie == teh awesome!
(Is that how the kids are saying it?)
Thanks, man!