Ok, I think I need help. I admit it.

I mean a few days ago, I'm searching The Google for funny comics (as is my wont!) and come across a single, out-of context panel that is so funny on the outset that I just saved it reflexively. I mean, if you stumbled across a Silver (Golden?) Age panel of a gorilla with a gun terrorizing a library demanding certain books to further his plot for world conquest.. well, you'd save it too! Trust me. You know you would.

But - and here's where I think I may have "teh brain troublies" - when I came across it again tonight, I thought I could make it funnier. Like that was even possible. I should have realized that right then and there.

But, NO! I furthered on with my first thought and came up photoshopping something that really suggests I need some kind of professional help.

Seriously ... who thinks up this shit?!?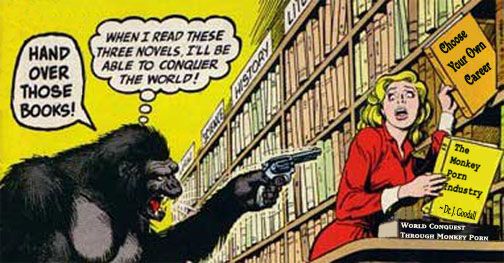 (Oh! That reminds me! I need to free up some of my hard drive space and organize some "special folders!")
Happy Weekend, everyone!