Y'know? After finishing a second reading, the new Booster Gold 1st issue kinda grew on me. I think Kevin nailed down my initial problem with it when he described it as an 80s throwback. Or homage. I can't decide. But it sure did have some typical-for-the-time formulaic writing and set-up at the beginning. As fun as they tried to make it. But it still left a bad taste in my mouth.

I've now noticed that it's only the first half of the comic that reads like those old 80s Booster Golds. Still, it kinda bugged me, I admit, and I actually put it down before that point thinking it's traveling too far downhill for it to make it worthwhile to finish. I'm glad I picked it up again. It totally redeems itself in the last half.

(And that Superboy "Punching history. Please." joke was teh awesome! That one was, too.)

So, I kinda like it now. And the premise is a good one to carry a series. I'll probably pick up the next one. It still makes me feel like I'm a 18 year-old comics reader again, though...

Enough with the breakdown! Time for some crappy photoshop!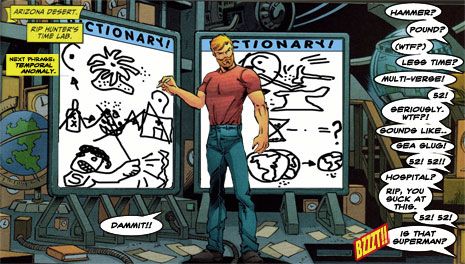 Click for Boost
And, was I the only one who thought, after hearing this sound effect:
That this would follow?
Perhaps I've just been reading too much Ambush Bug recently. Like that's even possible.