A few weeks ago Adam, over at Comics Make No Sense threw the bloggers a fantastic out of context panel that really deserved better treatment than I ended up giving it.


You know how I hate to let you guys down, but I had football on the brain (for whatever reason) and totally botched it. Now, I'm not trying to make any excuses - I mean, a joke was certainly there.. one that I should have had eagle-eyed dead center in the narrow crosshairs of juvenile playground humor that I aim for semi-daily around here. It just didn't click with what I had in the back of my mind somewhere.

Man, I'm really taking the metaphor round-a-bout these days. It's like trying to summarize a badger's nocturnal emissi... awww... forget it.
Anyhoo... I really wasn't happy with the first thing that came to my mind - and like I said, I remembered that there was something I had perused recently that would have been perfect. I just couldn't remember what it was. It was there.. I know I saw it.. but just out of reach. Darn this short term memory! Curse you college debauchery!
Well the answer came to me today while fondly thinking about Power Girl.
(By the way, in addition to odd memory lapses, the Power Girl Reminiscing Technique (PGRT) also works well to clear up poor vision, restless leg syndrome, and inpot.... nevermind.)
So ... now I give you ... Ladies and Gentlemen ...
The Joke that Should Have Been!!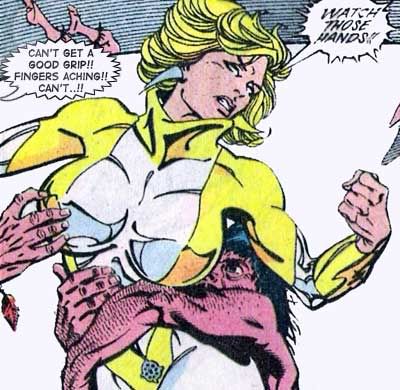 I feel much better now.
Ahhhhh.....



(Off to play more Everquest!)