A fairly eclectic week this time at the ol' comic shop, but a good one. Any time you get to bring home a Jonah Hex, a Paul Dini Harlequin /Riddler story and the very fun Hitman/JLA promises you some good reading later that evening! And, as much as I'm really looking forward to the conclusion of everyone favorite's asshole as he screws with the JLA, I'm choosing another to officially declare this week's Most Wanted...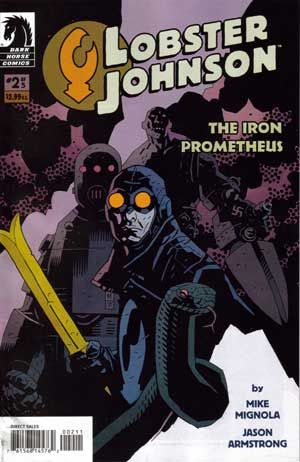 Lobster Johnson: The Iron Prometheus #2
Writer: Mike Mignola
Artist: Jason Armstrong
Why? Well, lets look at what we got with issue #1, shall we?
- Gorilla monster apartment fight
- Nazi gangsters
- 1930s Sci-Fi super suit
- Mad scientists
- Mysterious Lovecraftian mystics up to no good
- All-around Mignola craziness
Oh, yeah. I'm solidly behind this series.
This was one heck of a comic and a fantastic set-up issue. The art was an excellent compliment to Mignola's wacky chaotic script. Just the right amount of looseness with the lines really made those fight scenes flow. Yep, this one stuck with me... and when I saw #2 on the shelf today, I think I giggled a little bit. Just a little bit, though. 'Cause I'm really a macho, macho man.
Issue #2? Even better. It moves everything along at a such a high-speed clip that when you finished, you're almost winded. Seriously, this thing flies by and is crammed to the brim with the action. It's dark, it's moody, it's thrilling... heck - it's got cyborgs, mad Nazi scientists, a room full of assassins and giant snakes! And brother? You slap Mignola's name on a combo like that, you've sold yourself a comic book!
Incidentally, I've always thought that Mignola's writing suffers when he doesn't draw it himself. I think he sees things so stylistically that it's not always conveyed properly to a different artist. Or it ends up looking like it would've been better if Mignola did draw it. But I could say that about almost anything, really. That's not the case here with Jason Armstrong, though. He's very suited to translate this from what must have been a very descriptive script. It works. And it only slightly looks like Mignola.
Bottom line: if you're a fan of Mignola (as I am), you'll love this one. It's just so gosh darn fun!
Most Wanted Panel: