Things that made me happy this week:


Jack gives Hydra a

Wet Willie

.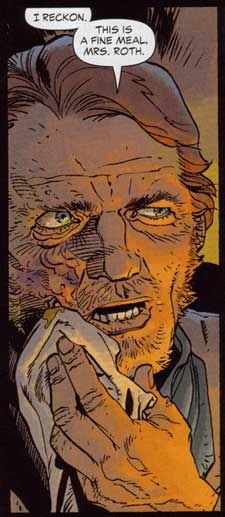 J.H. Williams, with an easy throw-away detail of him eating, draws one of the best Jonah Hex character moments I've seen in a while. I mean..

Euggh!





Mr. Popular drew this.

Total awesomeness a Go-Go!





I bought a Giant-Size Jimmy Olsen in which this actually happens for only a buck. And it's not the craziest thing that happens in it. Not by a long shot.


vs.

Season 2, Bout 4 tomorrow night! The Roller Girl's very own Devil's Darlings vs. those doomed-before-it-starts B-Town Battalion!


Oh .. and we're expecting several inches of snow tonight. Contrary to popular belief, it really doesn't snow much here in Boise. Surrounding area? Yeah. In the city proper? Not so much. So.. looking forward to that.
(It's actually quite funny early in the morning when I let the dogs out to do their business after a nightly snowfall.. they run full tilt outside, then stop suddenly in the middle of the yard, look around confused then back at me with an expression like,
"Did

YOU

do this?!?"
)
Enjoy the weekend, everyone!

By the way... The devil girl in the Darling's logo? Yeah, that's Bettie.